Brick Paver or Natural Stone Patios
Through the design and installation of your patio (brick pavers and natural stone), Traditions Landscape Group adds a practical touch of elegance to any landscaped area. Using various styles, sizes and colors of clay or concrete brick, Traditions patio designers extend your living space while adding value to your property. Each custom stone patio displays our quality craftsmanship and attention to detail, and is tailored to your style and budget.
---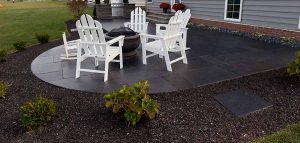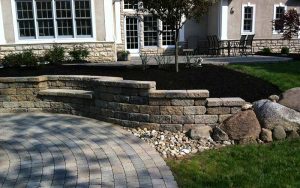 ---
What is the difference between "Clay Pavers & Concrete Pavers"?
Clay pavers are made with real clay that is mixed, extruded and baked in a kiln at very high temperatures and concrete pavers are made with a special blend of concrete and coloring that is compacted at very high pressures in a special machine.
Which type of paver is better?
There is very little difference between pavers in general. The important difference is the maker of the pavers. Paving materials can vary from one manufacturer to next. The qualities that make a paver perfect are its compressive strength, water absorption rate and abrasion index.
Adding Durability and Longevity to your Paver Patio
When installing stone and paver patios or walkways, Traditions hardscape experts are focused on the durability and longevity of your project. To ensure that your backyard or garden patio lasts for decades to come, we provide a proper pitch and a strong, compacted base or foundation. Our team is trained to install every type of brick paver and natural stone available, including Unilock products.